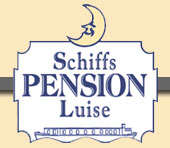 updated :
Boat guesthouse > Home
Welcome
in the boat guesthouse "Luise"

The boat named "Luise" is permanently ancored infront of our guest-house. From the main-deck of "Luise" you can enjoy the exellent panorama-view of Babelsberg-Castle and Park, Crown-Princess-Palais, Flatow-Tower and Humbold-Bridge.
Located in Schiffbauer Gasse you'll find the "Hans-Otto-Theatre", which is build in a very extra-ordinary style.
Fine food you'll be served in the restaurant called "Il Theatro", situated in the well developed "Oracle" and VW-Design-Centre. Events and relaxation are offered here.
On our boat "Luise" we can offer Double-Bed-Cabins. The "high-light" is our Captain's Cabin, equiped with a separate entrance, a small hall for wardrobe and luggage, a fire-place and Shower/WC. We hope you'll enjoy your stay.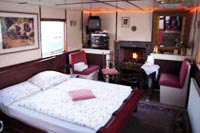 Boat guesthouse "Luise"
Berliner Strasse 58
14467 Potsdam

+49 (331) 24 02 22

+49 (331) 24 02 24
www.schiffspension.de
info@schiffspension.de
Optimised for Microsoft Internet Explorer and a screen resolution of 1024 * 768 pixels.