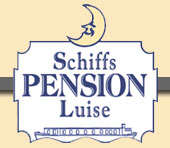 updated :
Boat guesthouse > The Boat
Facts about the boat
The original name of todays Guesthouse on a boat(Boatel) was "Hiddensee"(An island in the Baltic-Sea west of the island of Rügen). It was launched in the city of Kiel as a cargoship for tiles. In those days a somehow quite unusual elektro powered engine of 7 PS moved the ship.
In 1967 the "Hiddensee" was changed from the vocational school of water industriy in Kleinmachnow/Brandenburg into a living boat with a sundeck.
On Dec. 26, 2003 Mr. Dalichow bought the ship and transformed it with a lot of Engagement and Individuality into todays Guesthouse Boat "Luise".
The Boat is charming and modern hospitel in Summer as well as in Winter. The insulation, heating and sanitary systems were executed with todays technic ecological. Every cabin has its inviting charme as well as the entire ensemble.
We welcome you to be our guest.